About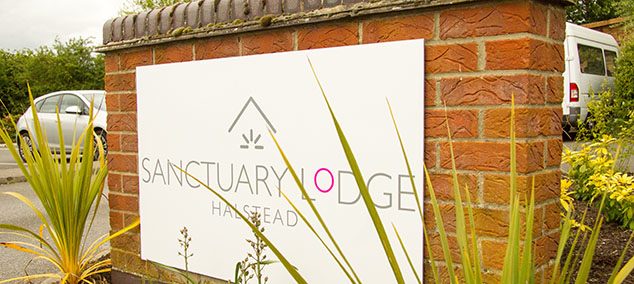 Sanctuary Lodge is a state of the art detox and rehabilitation facility, set in the picturesque market town of Halstead. The facility itself boasts 24 double bedrooms with en-suite bathrooms. The treatment is fully integrated, meaning we can facilitate a full on-site medical detox and rehabilitation programme within the same unit.
All bedrooms are decorated to a high standard in a neutral yet homely decor and are well equipped to ensure maximum comfort during your stay. Many bedrooms overlook picturesque views of the surrounding countryside and parkland.
Outside, the grounds back on to fields and there is a children's play park conveniently situated less than a minute's walk away. During visiting times, there will also be the opportunity to explore one of the many nearby nature trails or take in the market town atmosphere and local heritage of Halstead.
Sanctuary Lodge appreciates that most of our clients will come to us in a time of crisis; to that end, we have worked hard to create a high standard facility that offers a safe haven within peaceful and tranquil surroundings. Our aim is to make your stay as comfortable as possible, while at the same time offering you lifesaving and life-changing rehabilitation treatment.
We are passionate about treating addiction and every client that enters our program can be sure of 100 percent commitment from our staff.  Quite simply, we are here to help you heal and recover; to live a happy and content life free from the pain and misery of addiction.  The majority of our staff are in recovery themselves, so they fully understand how you will be feeling.  Our whole facility is geared towards offering a detox and rehab program that is specifically tailored to meet each individual's treatment needs.  Our care doesn't just stop at the end of your inpatient stay either.  Each client that completes a full alcohol or drug rehabilitation program at The Sanctuary will be entitled to 12 months aftercare at no extra cost.
Sanctuary Lodge is fully CQC registered,(Care Quality Commissioned) to ensure the highest standards of treatment and safety.  As well as our excellent treatment program, we also have on site an outstanding Clinical team providing Psychosocial and nursing care around the clock. The Lodge is extremely well equipped with an on-site gymnasium, attractive gardens, holistic therapy room, recreation and relaxation room, one to one counselling therapy rooms, clinical assessment room, full catering facilities with a full time qualified chef and kitchen staff and much, much more.  Take a look around our site for full details of our program and what we have to offer. We are confident that we can offer you a world class full rehabilitation program at a fraction of the cost of some of the more expensive rehab centers. We do this because we are passionate about recovery, and because we can!
Quick Facts About Sanctuary Lodge
Sanctuary Lodge is the best equipped rehab in the UK:
24 Beds
Specialist addiction and depression treatment centre
Alcohol rehab, drug rehab, trauma and depression programmes
Set in beautiful Halstead in Essex
One-to-one counselling
3 therapy rooms
Gymnasium
Fully equipped clinical and admissions assessment room
Separate secure pharmaceutical room
Cutting-edge holistic therapy room
Auricular acupuncture
Wi-fi for clients
Large, fully equipped kitchen, pantry and dining rooms
Medical assessment and treatment room
24 hour GP service
On-site 24-hour care
Spiritual house and garden
Large, attractive well-maintained garden and flower beds
2 raised decking and seating areas
Countryside views
BBQ area
Nearby children's playing field, park and nature walks
Private parking for staff and visitors
Situated directly behind the town's hospital
Local cafes and restaurants are a short drive into the market town