12-Step Therapy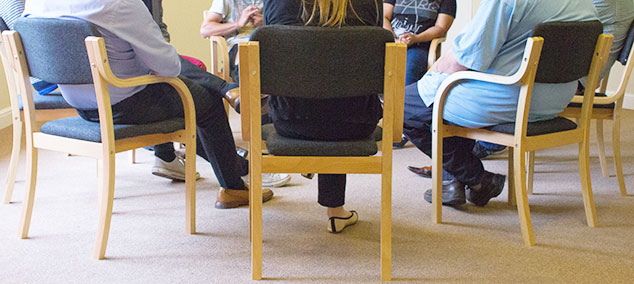 12-step therapy
Sanctuary Lodge has great belief and faith in the power of healing that the 12-step therapy model has to offer individuals suffering from addiction and other related conditions. 12-step therapy has, over the years, accomplished miracles in healing and recovery for addicts and alcoholics around the world. Where more traditional medical and psychiatric methods of treating addiction have failed, 12-step therapy has proved a lifeline for many who ordinarily would never find recovery.
The origins of 12 Step Therapy
Alcoholics Anonymous, which was founded in1935, originally developed a concept for recovery known as the 12 Steps that their members could follow in order to recover from alcoholism. The concept was so successful that the membership of Alcoholics Anonymous grew and grew to the millions that it is today. At the time, and indeed still today, the medical fraternity advocated 12-steps as a successful treatment for alcoholism and addiction. It was found that the basic principles of the 12-step programme could be applied to any addiction and in many cases individuals suffering from other mental health related conditions.  The principles also spawned support groups for loved ones and families of addicts and alcoholics.
How does it work?
12-step therapy works by bringing about a drastic change in the individual's thinking. In its simplest form, the individual recognises and admits that he or she cannot control their addiction; this is the first step in recovery. From there they become willing to embark on a spiritual way of living, which promotes principles such as honesty, open mindedness, compassion, and altruism. The 12-steps gives clear guidelines of how this can be achieved and shows the individual how they can access an inner resource that provides them with strength and direction.  Sanctuary Lodge provides individuals with an introduction to the 12-steps. For those who complete a longer programme, they will have the opportunity to be taken through the whole 12-step programme. 12-step therapy promotes abstinence from all mood and mind altering drugs, including alcohol and destructive and obsessive behaviours.  The principles instil a sense of purpose and direction that replace the space the addiction takes in the individual's day-to-day life.
How we incorporate 12-step
Sanctuary Lodge uses 12-step therapy together with other innovative therapies, including trauma resolution, integrative counselling models, CBT and holistic. Combining these powerful methodologies provides a unique and contemporary addiction treatment programme that enables healing and recovery. The structure and intensity of the programme delivery is intended to replace the focused and compelling qualities of the addictive relationship.  Treatment provides a positive, constructive, healthy 'alternative'.  Therefore, clients are encouraged to re-direct their attention/energies away from a previously self-defeating, destructive course towards increasingly effective functioning.