Bedrooms with bathrooms
Sanctuary Lodge has provision for up to 24 clients at any one time.  All of our bedrooms are fully furnished to a very high standard and decorated in a fresh yet neutral decor. Furthermore, they are light, well ventilated, and well equipped with a Plasma TV and Wi-Fi access.  All bedrooms are furnished with a comfortable double bed, double wardrobe, writing desk, bedside table, and set of drawers. The rooms are carpeted and warm; many have picturesque views of the surrounding parkland, gardens, and countryside.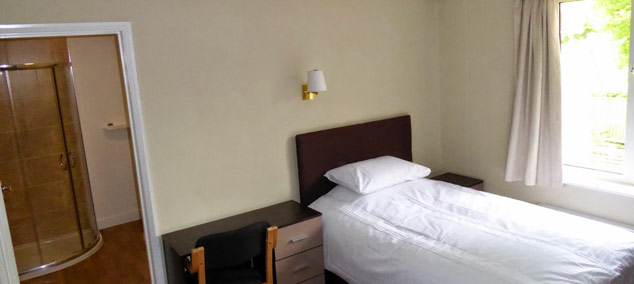 The bathrooms are en-suite and modern, with a bath, overhead shower, basin, and toilet. They are fully heated, providing our clients with privacy and ease of access. For those with difficulty in managing stairs or getting into a bath, we have downstairs bedrooms with walk in showers. We also have an internal lift that provides access to further bedrooms and therapy rooms.